National PCC Day 2016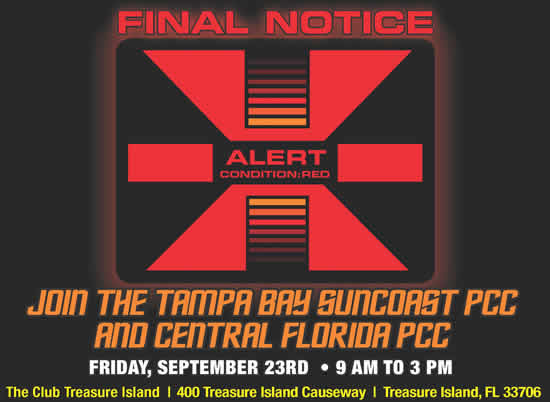 Tickets - $55.00
Price includes buffet breakfast, classes, vendor showcase, lunch & snacks.
Educational workshops will be offered and counted towards a professional mailing certificate.
We are aligning the planets to make this a PCC Day that is out of this world.
Postal Presenter – Nancy Rettinhouse Vice President Employee Resource Management - USPS Headquarters
Pick 3 Education Classes below and receive a PCC Certificate:
Mailer Scorecard (1 class) & Threshold Assessment class (2nd class) – class instructor: Lance Bell Program Manager Business Mailer Support – USPS Headquarters
eInduction – class instructor: Darren Lawlor Vice President TC Delivers and USPS representative Don Dease Manager Business Mail Entry
Shipping Services: Lithium Batteries & Hazardous Material Shipping, the Do's and the Don'ts: –Patricia Fortin Product Classification Specialist - USPS Headquarters
Hurricane Preparedness: Preparing for the Storm: – Ed Bloodsworth – News Channel 8 WFLA Meteorologist
Automatic External Defibrillator (AED): Every Second Counts – Bill Mallory – Fire Chief Treasure Island, FL
Vendor Opportunities
Vendor Space is available. Register your vendor space now!
3 foot table $175
Price includes lunch admission for one person
6 foot table $350
Price includes lunch admission for two people
Vendors Register Here:
All Sponsorship are SOLD OUT!
BREAKFAST




Sponsored by




The Florida Aquarium

CENTER PIECES


$250.00 -


Universal Business Solutions

LUNCH




$500.00 -




Access Mail

PHOTOS




$250.00 -


Canon Solutions America, Inc.

BREAK




$200.00 -


National Parcel Logistics, Inc.

PRINT




Sponsored by




TC Delivers

BAGS




Sponsored by




Pitney Bowes
Would you like to extend your stay in Treasure Island? The following hotels are available:
Thunderbird
10700 Gulf Blvd, Treasure Island, FL 33706
Phone:(727) 367-1961
Bilmar Beach Resort
10650 Gulf Blvd, Treasure Island, FL 33706
Phone:(727) 360-5531
TradeWinds Island Resort
10300 Gulf Blvd, St. Pete Beach, FL 33706
Phone:(727) 360-0490